Dysphagia | Difficulty Swallowing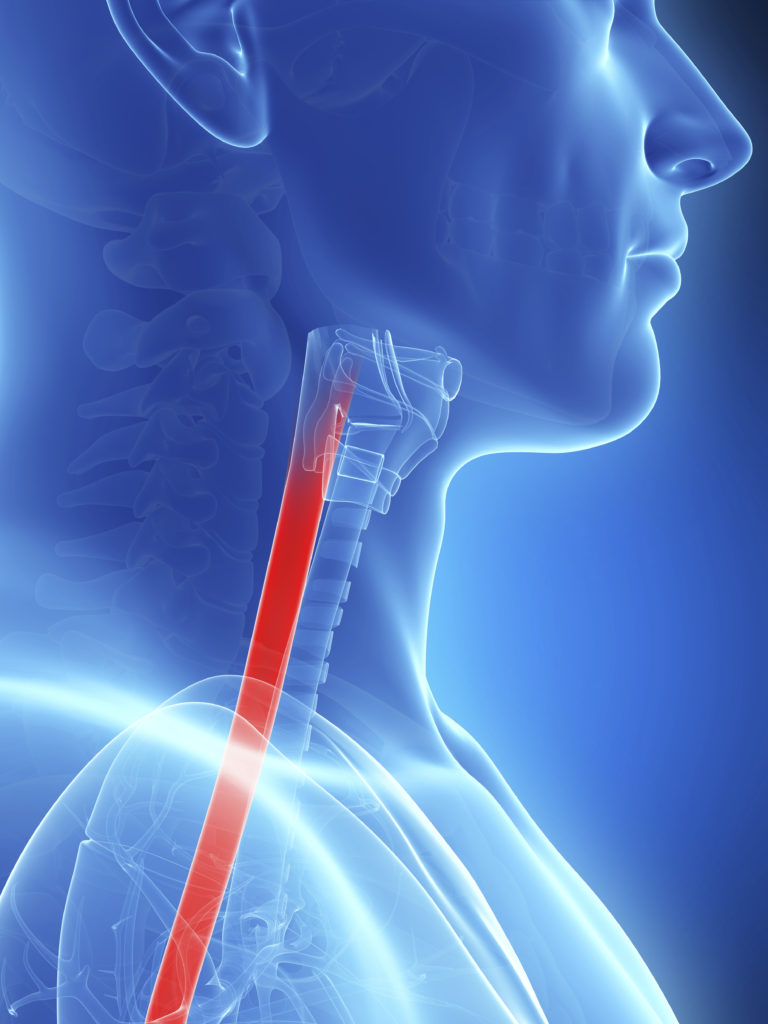 Have you ever experienced difficulty swallowing, or had the feeling that food is stuck in your throat or chest? Trouble swallowing, also known as dysphagia, can be a sign of a problem in your throat or esophagus. The esophagus help move foods and liquids from your mouth to your stomach, and dysphagia usually stems from an issue within the esophagus.
Difficulty swallowing is a common health issue, and it is a cause for concern at every age. Anyone can suffer from dysphagia, but the condition is most common in infants, adults over 60, and patients with brain or nervous system problems. Millions of cases of dysphagia are diagnosed in the U.S. each year.
Your expert gastroenterologist, Dr. Peyton Berookim, specializes in treating dysphagia and other issues affecting the gastrointestinal tract. Untreated dysphagia can lead to serious health issues. Contact Dr. Berookim at Gastroenterology Institute of Southern California today to find out more about dysphagia treatment.
Symptoms and Causes of Dysphagia
Dysphagia occurs when there is an issue within the structures and muscles that aid in swallowing. The most common symptom of dysphagia is trouble swallowing or the inability to swallow foods or liquids.
Other symptoms of dysphagia can include:
Discomfort while swallowing foods or liquids

Gagging, choking, or coughing when swallowing

Feeling like foods are stuck in your throat or chest

Pain with swallowing

Having foods or liquids come back up through your mouth, throat, or nostrils after swallowing

Heartburn

Weight loss due to inability to swallow foods or liquids
Dysphagia may be caused by tumors (benign or cancerous) and conditions that cause the esophagus to narrow. This includes problems like GERD (gastroesophageal reflux disease) and Barrett's esophagus (precancerous changes in the lining of the throat related to acid reflux). Patients who develop ulcers throughout their lives may have scars that form in their esophagus, which can make it narrower.
Age is also a risk factor. Adults over 60 have a higher chance of developing dysphagia than younger adults. Studies suggest that 75% of nursing home residents experience some type of dysphagia and that about half of all Americans over 60 will suffer from difficulty swallowing at some point.
Individuals who have suffered a stroke or other nervous system disorder often develop dysphagia because the muscles and nerves are unable to work correctly. Patients who have had a stroke, brain, or spine injury and those who suffer from Parkinson's disease or scleroderma have a higher risk for dysphagia.
Diagnosing and Treating Dysphagia
If you are suffering from any of the above dysphagia symptoms, it is important to schedule a consultation with your GI doctor. Your gastroenterologist will ask you about your symptoms and medical history. You should explain if you have more trouble with food or liquids and where you feel the sticking sensation. After this consult, your doctor will perform tests to determine the source of the dysphagia and to evaluate for any tumors or other abnormalities that may be present.
Your gastroenterologist will likely perform one or more of the following:
Fluoroscopy

X-Ray

Endoscopy/Esophagoscopy

pH monitoring
Once you have been diagnosed, and the cause and severity level of your dypshagia are gauged, your GI doctor will help choose the best treatment plan for you.
Possible routes of dysphagia treatment include:
Changing your diet

Surgery

Medicine

Muscle exercises

Dilation
Contact Dr. Berookim at Gastroenterology Institute of Southern California
If you are having trouble swallowing food or liquids, you are suffering from dysphagia and should see a gastroenterologist as soon as possible. If left untreated, dysphagia can have problematic health effects. Contact Dr. Berookim, your expert Beverly Hills GI doctor, today at (310) 271-1122 and schedule a consultation!