Upper Endoscopy (EGD)
Upper Endoscopy (EGD)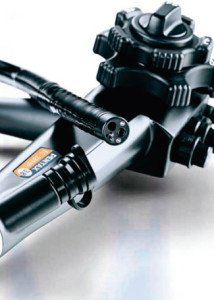 Since diseases of the digestive tract are often difficult to diagnose, these conditions cause patients a great deal of pain and suffering. Fortunately, a procedure called an esophagogastroduodenoscopy (EGD) allows Dr. Berookim to visualize the esophagus, stomach and small intestine and examine the lining to diagnose the cause of your symptoms.
Also known as an upper endoscopy, EGD involves the insertion of a flexible tube with an attached camera into the mouth and advanced to the stomach. Not only can Dr. Berookim use EGD to diagnose disorders of the digestive tract, but he can also utilize the endoscope to treat issues that are found. If you are interested in learning more about EGD, feel free to contact Dr. Berookim by calling 310.271.1122.
Who Needs an EGD?
EGD is a safe, effective means of diagnosing and treating a wide range of conditions affecting the digestive tract. Dr. Berookim may recommend this procedure for patients who are experiencing one or more of the following symptoms:
Trouble swallowing
Painful swallowing
Persistent heartburn
Chronic nausea
Vomiting
Abdominal pain
Bloating
Gastrointestinal bleeding
If you're experiencing any of the above symptoms, feel free to contact our office for more information about EGD.

ArtCreative Design and Custom coding
Before Your EGD
Before undergoing an EGD, you will need to avoid eating or drinking for up to eight hours. Dr. Berookim may also advise you to stop taking certain medications like aspirin and anti-coagulants. Be sure to tell Dr. Berookim all the medications you are currently taking before undergoing an upper endoscopy.
How is an EGD Performed?
Dr. Berookim performs upper endoscopies on an outpatient basis at La Peer Health Systems in Beverly Hills. Before the procedure, Dr. Berookim will administer medications through an IV to ensure that your procedure is comfortable and painless.
During the procedure, a small tube called an endoscope is advanced down the esophagus, through the stomach and into the first portion of the small intestine. Using mild air pressure, he will inflate the digestive tract. A camera at the end of the tube enables Dr. Berookim to visualize the lining of the digestive tract for abnormalities. Dr. Berookim may also perform a biopsy at this time to test the tissue for various conditions and diseases including cancer.
In general, the procedure for an upper endoscopy lasts about 10 minutes. Once the sedative wears off, you will be able to go home.
Frequently Asked Questions About EGD
Q: Will I be in pain after an EGD?
A: Most patients do not have any pain after the procedure. However, you might experience some slight discomfort after your EGD, including slight sore throat or bloating sensation due to the air passed through the endoscope.
Q: What does an EGD test for?
A: An EGD allows doctors to visualize the esophagus, stomach and first portion of the small bowel (duodenum) and identify any abnormalities. EGD can be used to diagnose esophageal ulcers and cancer, Barrett's esophagus, stomach ulcers, H. pylori infection, bleeding, and food allergies such as Celiac disease. While a normal, healthy esophagus is smooth and pink, an unhealthy digestive tract may have bleeding, growths and inflammation.
Q: How is an EGD used to treat patients?
A: An upper endoscopy is not just a diagnostic procedure but a method used to treat certain disorders of the digestive tract such as a bleeding ulcer. Dr. Berookim can also remove polyps and other abnormalities through the endoscope.
Q: Is an EGD a safe procedure?
A: An EGD is a very safe procedure. However, any medical procedure has some risks. Although rare, risks include infection, bleeding, and injuring the GI tract (perforation).
Q: When will I learn the results of my EGD?
A: Dr. Berookim will speak with you immediately after your procedure to discuss general findings. However, if a biopsy was performed, it will take a few days to receive the test results from the lab.
Contact Dr. Berookim for your EGD
A double board-certified gastroenterologist, Dr. Peyton Berookim specializes in diagnosing and treating disorders of the digestive tract. If you're experiencing distressing GI symptoms, don't hesitate to schedule a consultation.