PillCam Esophagus Capsule Endoscopy
Gastrointestinal issues can cause patients a great deal of suffering and distress, interfering with their ability to enjoy daily life. Fortunately, Dr. Berookim offers a new procedure option called the ESO pill to identify and diagnose esophageal problems including ulcers, Barrett's esophagus and esophageal cancer.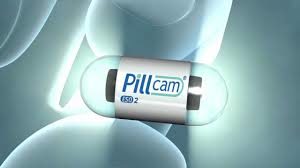 The ESO pill is a revolutionary procedure in which a patient swallows a small pill-sized video camera that takes hundreds of pictures of the esophagus that Dr. Berookim can later evaluate for abnormalities.
Less invasive than other methods, the ESO pill is performed in the comfort of the office and allows Dr. Berookim to examine the lining of the esophageal tract without the need for sedation. If you are interested in the ESO pill procedure, feel free to contact us online for a consultation.
Who Should Consider the ESO Pill?
The ESO pill is a great option for patients who want to identify the cause of their esophageal symptoms without undergoing more invasive procedures that require sedation. Dr. Berookim may recommend the ESO pill to diagnose possible esophageal ulcers, esophagitis, hiatal hernia, esophageal varices and Barrett's (which is a precursor to esophageal cancer).
How Does The ESO Pill Work? 
The ESO pill allows Dr. Berookim to visualize the patient's esophagus without the need for a more invasive procedure such as an upper endoscopy. Performed on an outpatient basis in our Beverly Hills office, the ESO pill procedure lasts just twenty minutes.
During the procedure, Dr. Berookim will instruct you to lie on your side before swallowing the ESO pill, which is a tiny, wireless camera about the size of a multi-vitamin. You will then take sips of water for a period of ten minutes while the capsule travels through the esophagus. The camera will take pictures, which are sent to a recording device for Dr. Berookim to view. The ESO pill will eventually travel through the stomach and be excreted naturally (so you do NOT need to return it!).
Frequently Asked Questions About ESO Pill
Q: Is the ESO pill a safe procedure?
A: The ESO pill is widely regarded as a safe procedure for visualizing the esophagus. However, there are certain patients who are not candidates this test. Dr. Berookim does not recommend the ESO pill for patients with swallowing disorders, GI obstruction or pacemakers or those with small bowel adhesions or tumors.
Q: Do I have to fast before ESO?
A: No, since this capsule only evaluates the esophagus there is no need to fast or do any sort of preparation before the procedure. 
Q: How long does the ESO pill procedure last?
A: ESO pill is a quick, in-office procedure lasting just twenty minutes, on average.
Q: What is the purpose of the ESO pill procedure?
A: Dr. Berookim utilizes the ESO pill procedure to identify and diagnose various esophageal issues including esophageal ulcers, esophagitis, hiatal hernia, esophageal varices, Barrett's esophagus and esophageal cancers.
Q: How can the ESO pill help people with GERD?
A: Chronic heartburn can lead to Barrett's Esophagus, which is a precursor to esophageal cancer. Barrett's Esophagus can be identified with the ESO pill.
Contact Us Today
If you would like to learn more about the ESO pill, or if you're suffering from a esophageal issue, please call 310.271.1122 to schedule an appointment with Dr. Berookim.